Miss Van
+
Mario Martinez (Mars-1) +
Gaia : Three solo exhibitions open this Thursday, May 26, 2011 at Jonathan LeVine Gallery.
Please click below to watch a NEW video profile on Mario Martinez (Mars-1):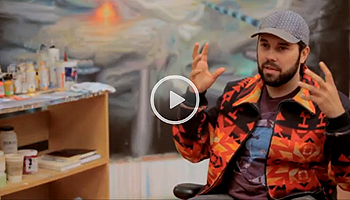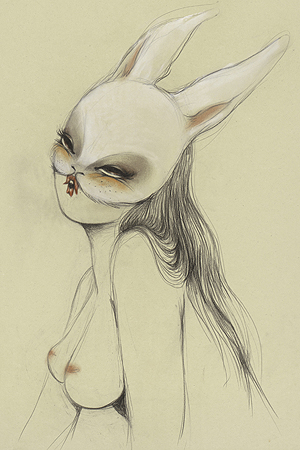 Miss Van
Bailarinas
Solo Exhibition
May 26—June 25, 2011
Opening Reception:
Thursday, May 26, 6—8pm
NEW YORK, NY (May 3, 2011) – Jonathan LeVine Gallery is pleased to announce Bailarinas, new works by French-born, Barcelona-based artist Miss Van, in what will be her second solo exhibition at the gallery and first solo show in New York in six years.
Miss Van's signature aesthetic revolves around sultry female subjects, which she refers to as poupées (or dolls, in French), alluding to elements of fantasy and narrative in her work. Their direct gaze, pouty lips, voluptuous curves and erotic gestures have a provocative appeal — some playful, others dark — emotionally charged and empowered by uninhibited sexuality. 
Miss Van began painting these alluring figures in the streets of Toulouse, France, as a teenager nearly twenty years ago. The characters have since matured along with the artist who now works mainly in the studio, allowing time to refine her imagery through delicate pencil renderings on paper and loose brush strokes on canvas and wood. Recently, Miss Van was invited to participate in Art in the Streets, a major group exhibition currently on view at the Museum of Contemporary Art (MOCA) in Los Angeles, California.
Along with her ultra-feminine figures, Miss Van has been known to incorporate animal familiars such as deer, rabbits and foxes. These creatures have a pet-like relationship with the mysterious temptresses who wear doll-like princess dresses or ballerina-tulle skirts with hints of lingerie textures such as corsets, ruffles, lace and fishnet. The women frequently appear topless and often wear masquerade-style masks, as well. Recently, the masks have become less decorative and increasingly more animal-like, adding significance to the dialogue created by the character's human-animal relationships by amplifying themes of identity, role-play, fetish, and freedom to express the wild (animalistic) side of natural human instinct.
The joie de vivre pleasure principle, innate in French culture, informs much of Miss Van's body of work. In Bailarinas, a series of pastel works on paper portray isolated figures in nostalgic poses inspired by vintage erotic portraiture. Additional acrylic and mixed media works on canvas and wood panel feature subjects inspired by dancers, driven by the sensually liberating experience of self-expression through physical control and movement of the body. The performance aspect of dance and the act of putting on a seductive show for a viewer or audience reinforces themes of fantasy and desire while also offering an interesting parallel to the artist's craft, as both are forms of visual storytelling.
ABOUT THE ARTIST
Miss Van was born in 1973 in Toulouse, France and is currently based in Barcelona, Spain. In 1991, at the age of 18, the artist started painting the streets of Toulouse as one of the first female artists in the European street art scene. In 1993, Miss Van began to include poupée (doll) figures in her work, her own stylized interpretation of pin-up posed Manga-inspired characters, which would become her signature imagery. In 2003, she left France, re-locating to her current home in Barcelona, Spain. In the years since, her work has been widely published and exhibited in galleries and museums, worldwide.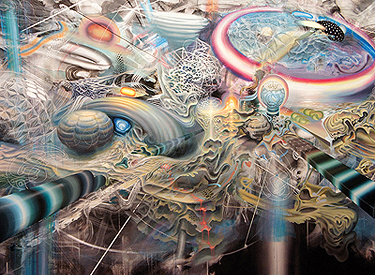 Mario Martinez (Mars-1)
Afterglow
Solo Exhibition
May 26—June 25, 2011
Opening Reception:
Thursday, May 26, 6—8pm
NEW YORK, NY (March 3, 2011) — Jonathan LeVine Gallery is pleased to present Afterglow, new works by San Francisco-based artist Mario Martinez (Mars-1), in what will be his third solo exhibition at the gallery. Afterglow features a new bronze sculpture and several large-scale, acrylic works on linen—painted in Martinez's distinctly individual and signature mind-expanding style of vast, abstracted, quasi-extraterrestrial landscapes.
In contrast with Martinez's last exhibition, this new series of atmospheric paintings are much grander in scale and presence, with dark rather than light background colors. Through broader brushstrokes and kinetic energy, there is more chance and less control to the execution, creating a sense of conflict and struggle within the work. To experience the imagery as a viewer is like ocular meditation, releasing the mind from cognitive thought and allowing oneself to be visually drawn deep into a cosmic vortex and mentally explore the unknown.
Painting from a perspective of penetrating depth, Martinez's process is subconscious-driven and constantly evolving. His compositions are densely layered in vibrant geometric and organic shapes, forming a unique matrix of patterns and textures. Skillfully combining optical color blending techniques with perspective line work, his dimensional imagery echoes the anatomy of architecture and microcosmic structures of biology.
Throughout the artist's body of work, themes range from scientific to esoteric phenomena, including theoretical physics, metamorphoses, collective consciousness, ufology, possibilities of otherworldly principles and the relative link between physical and life sciences. Transitional energies, natural multiplicity, helixes and spontaneous biological occurrences all converge, forming imagery with hypotheses beyond the scope of modern technology.
ABOUT THE ARTIST
Mario Martinez (Mars-1) was born in Boulder, Colorado in 1977. At the age of 13, he began writing graffiti in his hometown of Fresno, California. He later attended Academy of Art in San Francisco, where he currently lives and works; remaining heavily active in the city's contemporary art scene. His unique imagery explores possibilities of otherworldly existence through highly developed, multi-layered landscapes. Often employing a fuzzy-logic aesthetic, Martinez's artwork has a sentient appearance, like a tulpa—which in mysticism, is the concept of a materialized thought that manifests into physical form. His unique style has been described as urban-Gothic, sci-fi abstracted, quasi-organic form. Early inspirations include: graffiti, animation, comic book characters, UFOlogy, extraterrestrials, unexplored life, mysteries of the universe, alternate realities and the abstract quality of existence. The true meaning of Martinez's imagery is ultimately left open to interpretation. The artist feels this brings his creations full-circle, encouraging his audience to decipher the messages he wishes to convey as well as to form ideas of their own.
Gaia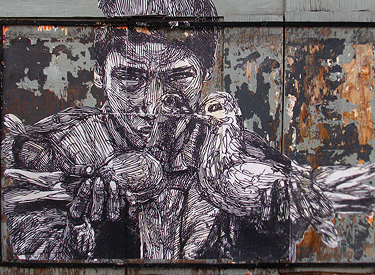 Succession
Solo Exhibition
May 26—June 25, 2011
Opening Reception:
Thursday, May 26, 6—8pm
NEW YORK, NY (March 9, 2011) — Jonathan LeVine Gallery is pleased to present Succession, new works by Gaia, in what will be the artist's first solo exhibition at the gallery. Works in Succession — comprised of drawing, painting and various relief-cut printmaking techniques — will be incorporated into a site-specific installation in the gallery's project room. Re-creating street scenes as a background setting for his work, Gaia will transform the space, bringing the texture and energy of his urban interventions into the white box environment.
The artist's chosen pseudonym, Gaia, is a name taken from the primordial Greek goddess personifying the Earth, more universally referred to as Mother Earth or Mother Nature. While he has been known to create portraits of human faces, Gaia's ambiguous imagery most often depicts totemic creatures with animal heads and human bodies as well as expressive hand gestures. He occasionally fuses the features of different animals together, forming imagined, amalgamated hybrids. These chimeric subjects are filled with Art History references, inspired by various sources including biblical figures, ancient mythology and mystical folklore.
Additional layers of symbolism and interpretation emerge as Gaia's works are encountered within the context of the urban landscape. Like apparitions, they confront the viewer as oracles with a powerful capacity to address contemporary social and environmental issues concerning consumer culture, consumption and sustainability. The juxtaposition of wild animal imagery pasted onto man-made architecture was a significant choice for the artist because, in his own words: "Having lived most of my life in New York City, I personally felt like I never had a connection to nature; it was so distant and idealistic."
ABOUT THE ARTIST
Born in 1988 in New York City, Gaia currently divides his time between Brooklyn, New York and Baltimore, Maryland. In 2007, as a senior in High School, Gaia became interested in the growing global street art movement. Drawing influence from contemporary artists such as Swoon and Elbow-toe, he began to paste his artwork on the streets of his native New York. After experimenting locally, it was only a few years before he would expand his imagery to urban spaces in other U.S. cities as well as International locations. In May 2011, Gaia received a BFA from Maryland Institute College of Art in Baltimore, Maryland, with a concentration in printmaking and sculpture. With sophistication beyond his years, the promising young artist's studio work has been exhibited in galleries in New York, Los Angeles, San Francisco, and Washington, DC. His street art has been documented, followed widely online and published in a number of recent publications including Beyond the Street: The 100 Leading Figures in Urban Art.
ABOUT JONATHAN LEVINE GALLERY
Jonathan LeVine Gallery exhibits a genre of work influenced by illustration, comic book art, graffiti, street art and pop culture imagery. We represent a mix of emerging and mid-career artists with an emphasis on cultivating new talent and creating an environment where artists can further develop their work. Since 2005, the first year established in New York, Jonathan LeVine Gallery has remained focused on maintaining its mission of community and commitment to providing our artists with a nurturing arena for experimentation and discussion. The gallery is located at 529 West 20th Street, New York, NY 10011. Gallery hours are Tuesday through Saturday, 11am to 6pm. For further information, please visit:
www.jonathanlevinegallery.com
, call: 212.243.3822, or email:
info@jonathanlevinegallery.com
.